Drunk drivers are unpredictable on the road. One moment, everything may seem normal, and the next moment, their car veers into your lane, forcing you to swerve instinctively out of the way and crash. Accidents involving drunk drivers are often life-altering for the innocent victims who are injured or killed by an intoxicated driver through no fault of their own.
We understand that this may be a difficult and traumatizing time for people who have been injured or killed by the senseless act of another. Our drunk driving collision attorneys in Beverly Hills handle each case with compassion, ensuring that you are receiving the best treatment and the highest compensation for your damages.
Gould & Jefferson of Beverly Hills is home to experienced and dedicated drunk driving collision lawyers in Beverly Hills who are standing by to assist you. Call (310) 899-9529 now to schedule a free one-hour consultation with our team.
Beverly Hills Drunk Driving Collision Information
California's Blood Alcohol Level Driving Law
California law states that it is illegal for drivers to operate a vehicle with a blood alcohol concentration (BAC) of 0.08% or higher. When drivers are over the maximum BAC level, they are considered drunk and are not only endangering their own lives but also those of the innocent victims that come into contact with them. Victims tend to include the driver, passengers, bystanders/pedestrians, bicyclists, and/or other innocent people nearby.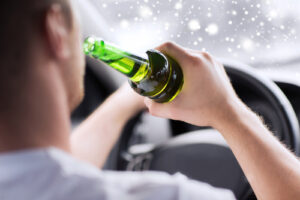 Possible Shared Liability for California Drunk Driving Accidents
While drunk drivers are undeniably irresponsible and reckless, it's possible for other parties to be liable as well. Stores or businesses who sold or distributed the alcohol, owners of the vehicle, and even employers can all be considered liable. For example, if an employee was performing his or her job duties under the influence at the time of the crash, the employer may be vicariously liable for the accident.
Each situation is different and unique, so it is important to speak to an experienced Beverly Hills drunk driving accident lawyer that can help you understand your rights as you pursue a claim. If you or a loved one has been a drunk driving accident victim, call us first and don't give up until every avenue has been investigated.
Hire a Beverly Hills Drunk Driving Accident Attorney
When you think about it, driving alongside a drunk driver is essentially sharing the road with a high-powered weapon that has lost control. In 2010, the National Highway Traffic Safety Administration reported that a person is injured every two minutes in a drunk driving crash.
Insurance companies are businesses trying to stay profitable, so it's typical for insurance adjusters to contact accident victims early on in order to interrogate and manipulate them, minimize their injuries, and reduce the liability of the at-fault party. They will always try to get away with paying as little money as possible. This is why it is important to have an experienced and knowledgeable drunk driving accident lawyer in Beverly Hills fighting by your side.
When accidents are caused by the negligence of another person, victims of these accidents deserve the full amount of compensation for their losses. Gould & Jefferson of Beverly Hills is home to knowledgeable attorneys who know how to deal with insurance companies and overcome the tactics they use. Our drunk driving accident attorneys in Beverly Hills know how to negotiate and settle with insurance companies to get car accident victims the highest compensation for their injuries.
Call (310) 899-9529 to speak with a qualified drunk driving accident lawyer in Los Angeles County, California, today.