Pedestrians and fast-driving motor vehicles don't mix well in close proximity, especially when motor vehicle drivers are distracted and pedestrians don't have any real protection against this threat. If you or a loved one has been injured in a pedestrian accident, it is important to talk to a Beverly Hills pedestrian accident lawyer.
We at Gould & Jefferson understand that this may be a difficult time for people who have been injured, and our team of attorneys handle each case with compassion in order to make sure that you are receiving the best treatment and the highest compensation for your damages.
Gould & Jefferson of Beverly Hills has experienced and dedicated pedestrian accident attorneys in Los Angeles County standing by to assist you. Call (310) 899-9529 now to schedule a free one-hour consultation with our team.
Beverly Hills Pedestrian Accident Information
What to Do After a Pedestrian Accident in California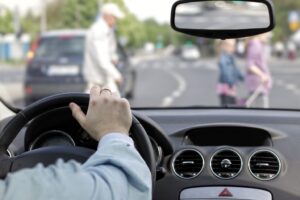 Pedestrians are often the victims of negligence. The risk of injury increases when there are dangerous road conditions, improperly marked crosswalks, or extreme weather conditions (such as rain, which can limit a driver's visibility). Pedestrian injuries typically result in wrongful deaths and other serious injuries.
If you've been involved in a pedestrian accident, the first and most important step is to get medical treatment. The law allows us, as your pedestrian accident attorneys in Los Angeles County, to pursue a claim against the driver if they acted in an unlawful manner and committed a driving violation or broke the law at the time of the accident. Talk to a Beverly Hills pedestrian accident attorney to find out if you have a case.
Our pedestrian accident attorneys in Beverly Hills have represented pedestrians injured by motorists in roadway, crosswalk or intersection accidents. We thoroughly investigate the accident in order to preserve and document the evidence to increase your odds of getting the highest settlement amount.
Hire a Knowledgeable Pedestrian Accident Lawyer in Beverly Hills
When pedestrian accidents are caused by the negligence (fault) of another party, victims of these accidents are frequently compensated for their loss, through monetary compensation. The insurance adjusters of the at-fault party will often try to contact you early on following an accident in order to interrogate you and manipulate your words. Their goal is to minimize your injuries and negate the negligent party's liability so they can get away with paying you as little as possible. This is why it's so important to have an experienced and knowledgeable team of pedestrian collision lawyers fighting by your side.
Gould & Jefferson of Beverly Hills is home to knowledgeable pedestrian accident attorneys who are experienced in dealing with insurance companies and overcoming the tactics that they use. Our pedestrian accident lawyers in Los Angeles County know how to negotiate and settle with insurance adjusters to obtain the highest compensation amounts for pedestrian accident victims and their losses.
Call us today if you've been injured as a pedestrian in a car-pedestrian, motorcycle-pedestrian, truck-pedestrian, or bicycle-pedestrian accident. We have pedestrian accident lawyers in Beverly Hills standing by to help protect your rights. Call (310) 899-9529 to speak with a qualified Los Angeles County pedestrian accident attorney about your case.