Rideshare services have become more and more popular and have practically taken over the ancient taxi business. Due to the popularity of these programs, unqualified drivers are often asked to work for Uber and Lyft. These drivers cause many accidents that leave passengers injured. Los Angeles unfortunately sees more than double the number of fatalities than any other part of California.
Have you been injured in a car accident while in an Uber or Lyft? We understand that this may be a difficult and traumatizing time for people who have been injured. Our Uber and Lyft accident attorneys in Beverly Hills handle each case with compassion, ensuring that you are receiving the best treatment and the highest compensation for your damages.
Gould & Jefferson of Beverly Hills is home to experienced and dedicated Uber and Lyft accident lawyers in Beverly Hills who are standing by to assist you. Call (310) 899-9529 now to schedule a free one-hour consultation with our team.
Beverly Hills Uber and Lyft Information
Our Uber and Lyft accident lawyers in Beverly Hills frequently see clients who have been involved in accidents with Uber and Lyft drivers, and one of the first things they always ask is, "Whose car insurance coverage will apply and who can we recover it from?"
Required Uber and Lyft Insurance in California
Uber and Lyft are similar to taxi services in that they do not own, operate, or control their vehicles. There has been a lot of case law around Uber and Lyft attempting to escape liability when accidents with their drivers occurred, but these attempts were unsuccessful. California courts held that Uber and Lyft must provide a $1 million dollar policy for their drivers. This was a huge relief for victims of negligence by Lyft and Uber drivers. Oftentimes, Uber and Lyft drivers still work without having the proper rideshare insurance, but this is not an excuse for Uber or Lyft.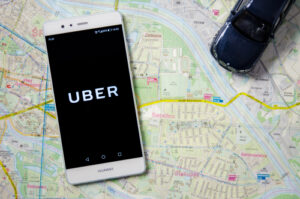 Because of the large policies provided for Uber and Lyft drivers, victims can recover up to a million dollars each. The million-dollar policy will kick in as soon as the driver is connected to the app and has a rider in the car or queued for pickup.
When Do You Need a Beverly Hills Uber and Lyft Accident Lawyer?
There are certain situations in which a Beverly Hills Uber and Lyft accident attorney should be retained after a car accident. You may be able to get a settlement without the use of a lawyer, but these offers will likely be very low and can cause you to miss out on the true value of your case.
Here are some instances of such cases that require the assistance of a Los Angeles County Uber and Lyft accident lawyer:
When the other party is denying fault
If this occurs, it is important to have an Uber and Lyft accident lawyer in Los Angeles County on your side that can assist you in investigating, obtaining the proper evidence, and proving the negligence of the other party. This will give you the best chances of recovering any sort of compensation.
When there are catastrophic injuries or permanent injuries that will have an impact on an individual's life for a significant period of time
Examples of this are the loss of employment and permanent medical conditions that require in-home nursing assistance. These victims can also be compensated for loss of enjoyment of life. A Los Angeles County Uber and Lyft accident attorney will be needed to evaluate your claim and assess the value of the future treatment and losses correlated to your injury.
When there is a severe psychological injury involved
These damages are hard to prove, but experienced car accident lawyers in Beverly Hills can help you obtain evidence for insurance companies and achieve monetary compensation for such injuries.
When Should I Enlist the Help of Car Accident Lawyers in Los Angeles County?
It is best to consult with an attorney immediately after an accident. A lawyer will be able to help you find the best medical care at no out-of-pocket cost. They will also be able to investigate the scene and make sure that fault is not denied by the opposing party's insurance company.
Victims of car accidents have two years from the date of injury to file a claim, so it is essential that you seek an attorney as soon as the accident occurs and begin getting the treatment you need. In California, if the victim is a minor, his or her two-year period begins once he or she turns 18. State law also provides a three-year time frame for property damage claims to be filed. These statutes of limitations do not apply to your insurance company's claim and therefore, you should claim property damage and personal injury to your car insurer immediately after the accident.
Hire a Knowledgeable Uber and Lyft Accident Lawyer in Beverly Hills
The unfortunate truth is that there are thousands of car accidents every day, many of which cause property damage, physical injury, and even death. Recovering compensation for these losses doesn't happen automatically; you need the help of our Uber and Lyft accident lawyers in Beverly Hills.
Insurance companies are businesses trying to stay profitable, so it's typical for adjusters to contact accident victims early on in order to interrogate and manipulate them, minimize their injuries, and reduce the liability of the at-fault party. They will always try to get away with paying as little money as possible. This is why it is important to have an experienced and knowledgeable attorney fighting by your side.
When accidents are caused by the negligence of another person, victims of these accidents deserve the full amount of compensation for their losses. Gould & Jefferson of Beverly Hills is home to knowledgeable attorneys who know how to deal with insurance companies and overcome the tactics they use. Our lawyers know how to negotiate and settle with insurance companies to get car accident victims the highest compensation for their injuries.
Call (310) 899-9529 to speak with a qualified Uber and Lyft accident attorney in California today.