Multi-car pileup crashes are common occurrences on overpopulated California roads. The simple fact that multiple victims and/or negligent parties are involved complicates insurance matters greatly. For this reason, it's in your best interest to team up with a Beverly Hills multi-car collision lawyer who can help you sort through the complex legalities of the accident and obtain compensation.
If you or a loved one has been injured in a car accident, it is important to talk to a Beverly Hills multi-car collision attorney. We at Gould & Jefferson understand that this may be a difficult time for people who have been injured, and our team of multi-car collision attorneys in Los Angeles County handles each case with compassion in order to make sure that you are receiving the best treatment and the highest compensation for your damages.
Gould & Jefferson of Beverly Hills has an experienced and dedicated team of attorneys standing by to assist you. Call (310) 899-9529 now to schedule a free one-hour consultation with our team of multi-car collision lawyers in Los Angeles County.
Beverly Hills Multi-Car Collision Information
What Is a Multi-Vehicle Accident in California?
A multi-car collision is also known as a chain reaction or a pileup, but it can be simply defined as an accident that impacts several vehicles. Unfortunately, these are usually the most deadly kinds of vehicle accidents because they tend to occur on highways and freeways when a car is unable to stop in time before hitting another car, and the cars behind that car then start running into each other. They're often caused by fog, icy roads, road debris, unexpected traffic in a place of low visibility, and so on.
What to Do After a Beverly Hills Multi-Car Collision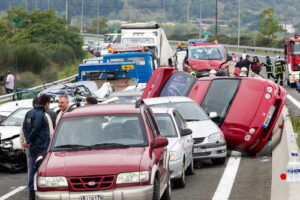 When in a multi-car collision, it is important to always get a police report. The police report will facilitate the exchange of information and have every party's statement written down so that they cannot change their story later on.
Serious injuries are common in multi-car collisions, and it is important to seek the proper medical treatment as soon as possible. Clients who come to Gould & Jefferson of Beverly Hills are set up with some of the best doctors in Southern California.
Determining Fault in a Los Angeles County Multi-Car Collision
The complex nature of these crashes makes it very complicated to determine fault and requires the assistance of a multi-car collision lawyer in Beverly Hills. A pileup accident becomes even more complicated when an injury is involved. Because multiple cars are involved in the accident, all insurance companies begin to point fingers at other parties. Insurance companies seldom accept liability unless there is a clear at-fault party, but when you are injured in an accident, you deserve to be financially compensated for your medical expenses, loss of wages, and pain and suffering.
Hire Our Knowledgeable Multi-Car Collision Lawyers in Beverly Hills
Insurance adjusters will try to contact you after an accident in order to interrogate you and manipulate your words. They want to minimize your injuries and negate the negligent (at fault) party's liability. Insurance adjusters will always try to get away with paying as little money as possible. This is why it is important to have an experienced and knowledgeable Los Angeles County multi-car collision attorney fighting by your side.
Our experienced team knows how to settle with insurance companies to get car accident victims the highest compensation for their loss and injuries. Gould & Jefferson of Beverly Hills is home to knowledgeable multi-car collision attorneys in Beverly Hills who know how to deal with insurance companies and overcome the tactics they use. Call (310) 899-9529 to speak with a multi-car collision lawyer in Los Angeles County today.