The thrilling roads and freeways of Los Angeles are a paradise for motorcyclists. Unfortunately, the thrill of riding on a motorcycle can have devastating consequences when you are involved in an accident. Gould & Jefferson of Beverly Hills fights for the rights of motorcycle injury victims in Los Angeles County.
Our motorcycle accident lawyers in Los Angeles County understand that this may be a difficult time for people who have been injured, and our team of attorneys handle every case with compassion to make sure that you are receiving the best treatment and the highest compensation for your damages.
If you or a loved one has been injured in a motorcycle accident, it is important to talk to our motorcycle accident attorneys in Beverly Hills. Gould & Jefferson of Beverly Hills has experienced and dedicated attorneys standing by to assist you. Call (310) 899-9529 now to schedule a free one-hour consultation with our team.
Beverly Hills Motorcycle Accident Information
Many of the most devastating motorcycle accidents involve inexperienced riders, speeding, drugs, alcohol, phone usage, improper lane changes, poor weather conditions, and/or lane splitting. But even when the cause of a motorcycle accident seems clear, there are several factors in an accident that must be proven to establish fault, or the degree to which each party involved is to blame. Once fault is determined and the percentage of fault is assigned, the at-fault parties will be considered financially responsible for injuries and damages.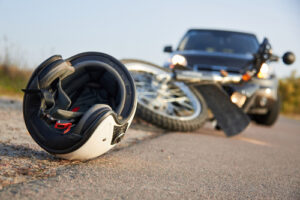 The determination of fault can sometimes be multifaceted. In most cases, the fault of the accident is heavily disputed because nobody wants to be held liable for the damages. Fault determinations can become more problematic if the accident involved equipment failures, poor road conditions, public vehicles, or other issues other than negligence. These complicating factors make it crucial to have an experienced Los Angeles County motorcycle accident attorney on your side.
Documentation to Gather After Motorcycle Accidents in Beverly Hills
Individuals involved in motorcycle accidents are often angry, upset, confused, and/or in serious pain, but you must be patient as you deal with other parties. Being patient and thorough will help you gather sufficient documentation of the motorcycle accident to help you make your case against the at-fault party(s). Some of the noteworthy information you should gather after a motorcycle accident includes:
Names of all parties in the accident
Driver's license numbers
Vehicle identification numbers of all vehicle involved (license plate/ Vin number)
Addresses and contact numbers of parties involved
Insurance company and policy information of all drivers
Contact information for people who witnessed the accident
Pictures of the damages sustained and any other visible evidence (ex: tire marks, signage, etc.)
Video footage from any surveillance cameras nearby along with the addresses of the cameras for future use (these can be found very helpful when insurance companies try to deny coverage)
A copy of the police report and officer identification information
Having all of this information will help your Beverly Hills motorcycle accident attorney build a stronger case for you.
What Not to Do After a Beverly Hills Motorcycle Accident
The things you do directly after a motorcycle accident will affect whether or not you recover compensatory damages. Here is a list of things you should NOT do following a crash:
Don't admit fault in any way
Don't say you are sorry or apologize in any way (insurance companies may take depositions later and use your words against you)
Don't talk about the specifics of the accident
Don't post anything related to the accident on any social media
Don't post anything related to the severity of your injuries on social media (this may hinder your ability to receive compensation for pain and suffering)
Don't post pictures of going out with friends, traveling, exercising, etc. after the accident
Don't discuss the accident with the other party, their attorney, or their insurance company (seek legal advice from Gould & Jefferson prior to making any statement)
Don't accept a settlement offer from an insurance company without speaking to an attorney first; victims of motorcycle accidents generally undervalue their claim, and can lose their rights to obtain a higher award damage by accepting a low settlement offer
If you've proceeded to do any of these things without first seeking legal counsel, it may not be too late. Speak to our motorcycle accident attorneys in Los Angeles County as soon as you can so we can get your case back on track.
Hire a Knowledgeable Beverly Hills Motorcycle Accident Lawyer
Hundreds of motorcycle accidents happen every day, many of which cause property damage, physical injury, or death. When such motorcycle accidents are caused by the negligence (fault) of another party, victims of these accidents are frequently compensated for their loss through monetary rewards. This recovery does not occur automatically, as insurance companies are businesses with the primary motivation of maintaining profit. Insurance adjusters will always try to get away with paying as little money as possible.
Thankfully, our motorcycle accident lawyers in Beverly Hills know how to negotiate and settle with insurance companies to get motorcycle accident victims the highest compensation for their losses and injuries.
Gould & Jefferson of Beverly Hills is home to knowledgeable motorcycle injury lawyers in Beverly Hills who know how to deal with insurance companies and counter their arguments and tactics. Get an experienced and knowledgeable team of motorcycle accident lawyers in Los Angeles County fighting by your side. Call (310) 899-9529 to speak with the best motorcycle injury lawyers in Los Angeles County, Beverly Hills, and California.