Have you been injured in the workplace? When you sustain injuries at work that could have been avoided, you as the victim can recover damages and hold your employer accountable. Although there are laws in place that regulate workplace safety, some employers disregard them in an attempt to save money. If you or a loved one has been injured at work, it is critically important to talk to our workplace accident attorneys in Los Angeles County.
We at Gould & Jefferson understand that this may be a difficult time for people who have been injured, and our team of attorneys handle each case with compassion and dedication, ensuring that you are receiving the best treatment and the highest compensation for your damages.
Gould & Jefferson of Beverly Hills has experienced and dedicated attorneys standing by to assist you. Call (310) 899-9529 now to schedule a free one-hour consultation with our team of workplace accident attorneys in Beverly Hills.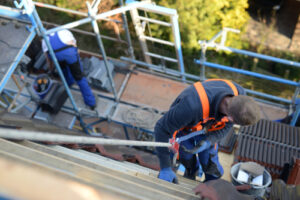 Beverly Hills Workplace Accident Information
In the state of California, there are laws in place that regulate workplace safety under the Occupational Safety and Health Administration (OSHA). Workplaces are supposed to have their own safety standards that further regulate conduct and activities to maintain a safe work environment, but unfortunately, many business owners try to reduce their spending by ignoring laws and not enforcing rules of their own. Our work injury lawyers in Los Angeles County will hold these careless business owners accountable for their actions.
Examples of Workplace Accidents
Typical accidents that occur in the workplace include:
Body parts being disfigured or dismembered by heavy machinery
Long-term exposure to toxic chemicals or airborne contaminants
Automobile accidents
Falling objects
Electrocution
Explosions
Violent crimes
Fires
If you've fallen victim to one of these unfortunate incidents, you could suffer lifelong pain, loss of limbs, long-term injuries, and even disabilities or brain damage. Some of these could cause you to lose your independence and ability to care for yourself. When this is the case, our work injury lawyers in Beverly Hills will hold your employer accountable and seek justice on your behalf. You deserve compensation for your pain and suffering, medical bills, and loss of earning ability.
Statute of Limitations for California Work Injuries
Under California law, it is important to remember that there is only a one-year period to file a claim for an injury in the workplace. It is important to call a knowledgeable and experienced workplace accident lawyer in Beverly Hills as soon as an injury occurs so that you can get the proper medical treatment and monetary compensation that you deserve.
Hire a Knowledgeable Beverly Hills Workplace Accident Attorney
When a workers' compensation claim is filed, most employers hire a team of attorneys to fight against your claim in order to avoid any financial obligation to you. It is important that you hire an experienced and knowledgeable Beverly Hills workplace accident lawyer that will fight by your side.
Compensation recovery does not occur automatically, as insurance companies are businesses with the primary motivation of maintaining a profit. Insurance adjusters will always try to get away with paying as little money as possible. Gould & Jefferson knows how to negotiate and settle with insurance companies to get workplace accident victims the highest compensation for their loss and injuries.
Gould & Jefferson of Beverly Hills has knowledgeable workplace accident lawyers in Los Angeles County who know how to deal with insurance companies and overcome the tactics that they use. This is why it is important to have an experienced and knowledgeable team of workplace accident lawyers in Beverly Hills fighting by your side. Call (310) 899-9529 to speak with the best Los Angeles County workplace accident attorney you can find in Beverly Hills and Southern California.