While head-on collisions are a relatively uncommon type of car accident in California, they are catastrophic when they happen. Head-on collision survivors often have the most serious and traumatic injuries and tend to require intensive care. If you or someone you love have been injured in a head-on collision, you need to talk to our head-on collision attorneys in Los Angeles County.
We understand that this may be a difficult and traumatizing time for people who have been injured. Our head-on collision attorneys in Beverly Hills handle each case with compassion, ensuring that you are receiving the best treatment and the highest compensation for your damages.
Gould & Jefferson of Beverly Hills is home to experienced and dedicated head-on collision lawyers in Beverly Hills who are standing by to assist you. Call (310) 899-9529 now to schedule a free one-hour consultation with our team.
Beverly Hills Head-On Collision Information
What Is a Head-On Collision in California?
Head-on collisions are accidents in which the nose or front end of one vehicle strikes the nose or front of another vehicle. This typically happens when somebody is not driving in the correct lane, turns onto a one-way street, or veers into oncoming traffic while texting or driving while drowsy.
Determining Fault in a California Head-On Collision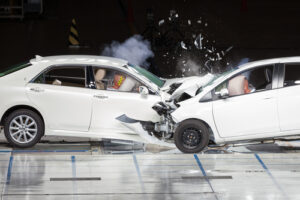 Fault in a head-on collision case depends on a variety of issues, such as the traveling direction of the vehicle, intersection lights, and stop signs. Fault determination is fact-specific, and in certain situations, contributory negligence can be raised.
Contributory negligence reshapes the case by showing that the injured person contributed to the collision. If contributory negligence is proven, the party once considered fully at fault will no longer be considered completely liable.
Injuries Associated With Head-On Collisions
Due to the violent nature of head-on collisions, these are some of the common injuries that we typically see with these types of accidents:
Serious lacerations
Head and spinal injuries
Traumatic brian injuries
Whiplash
Broken bones
Clearly, these serious injuries require extensive medical care and can rack up quite the expense for the victim and their family. This is one of the many reasons you'll need a Beverly Hills head-on collision attorney to help you pursue compensation. Clients who come to Gould & Jefferson of Beverly Hills are set up with some of the best doctors in Southern California.
Hire a Knowledgeable Head-On Collision Lawyer in Beverly Hills
Insurance companies are businesses trying to stay profitable, so it's typical for insurance adjusters to contact accident victims early on in order to interrogate and manipulate them, minimize their injuries, and reduce the liability of the at-fault party. They will always try to get away with paying as little money as possible. This is why it is important to have an experienced and knowledgeable Beverly Hills head-on collision lawyer fighting by your side.
When accidents are caused by the negligence of another person, victims of these accidents deserve the full amount of compensation for their losses. Gould & Jefferson of Beverly Hills is home to knowledgeable attorneys who know how to deal with insurance companies and overcome the tactics they use. Our head-on collision lawyers in Los Angeles County know how to negotiate and settle with insurance companies to get car accident victims the highest compensation for their injuries.
Call (310) 899-9529 to speak with a head-on collision lawyer in Los Angeles County, California today.