Thousands of people are injured as a result of dangerous property conditions every year. These incidents typically occur at restaurants, grocery stores, private residences, workplaces, amusement parks/stadiums, shopping malls, and construction sites.
If you or a loved one has been injured while on the property of another, it is important to talk to a Beverly Hills premises liability attorney. We at Gould & Jefferson understand that this may be a difficult time for people who have been injured, and our team of attorneys handle every case with care and compassion, ensuring that you are receiving the best treatment and the highest compensation for your damages.
Gould & Jefferson of Beverly Hills has experienced and dedicated premises liability attorneys in Los Angeles County who are standing by to assist you. Call (310) 899-9529 now to schedule a free one-hour consultation with our team.
Beverly Hills Premises Liability Information
A Property Owner's Duty of Care in Beverly Hills
Premises liability is a subcategory of personal injury law. Just like a normal personal injury case, there is a victim who has been injured due to unsafe or defective conditions on someone else's property. The owner or occupant of the property owes a duty of care to "invitees" in order to protect them from dangerous conditions, defects, and unreasonable risks of harm on the property.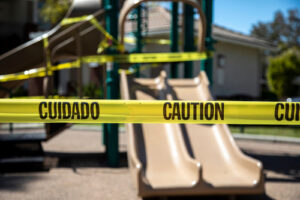 If a property owner finds that there is a dangerous condition on the property, they must repair the defect or provide adequate warning to visitors when they enter the property. When the landowner fails to keep the property reasonably safe, they are held liable for any injuries sustained by visitors. This can include medical damages and pain and suffering caused by the incident. A Los Angeles County premises liability attorney can help hold landowners accountable and recover these damages for victims.
Duty of Care for Invitees, Licensees, and Trespassers in California
It's important to note that a landlord's duty can change depending on whether the person on the property is a trespasser, licensee, or invitee. Here, we will define these terms and establish the landlord's duty to each type of visitor.
What Duty of Care Does a Landowner Owe an Invitee?
An invitee is exactly what it sounds like — a person who has been invited to the landowner's premises. An invitee extends to people of the public who have been invited onto the property for business dealings, such as stores, for example.
Here, the landowner has a duty to repair and fix any known dangerous conditions, and he/she is also responsible for inspecting the property for unknown or otherwise dangerous conditions that an invitee would have had access to. If you are hurt as a result of this failure to maintain a safe public property, talk to our premises liability lawyers in Los Angeles County.
What Duty of Care Does a Landowner Owe a Licensee?
A licensee is a licensed person who enters a landowner's premises because they have the consent to do so. When a licensee enters another's property, the licensee benefits rather than the property owner.
Property owners must make sure that their property is safe for licensees. Generally, a landowner owes a lesser duty to a licensee than to an invitee. However, it is important to note that they must protect "licensees" from all known dangerous conditions. They are typically required to inspect the property for hidden or unknown dangers. When they fail to do so, contact our premises liability lawyers in Beverly Hills.
What Duty of Care Does a Landowner Owe a Trespasser?
Trespassers are simply known as people who are not given permission to enter the land of the property owner.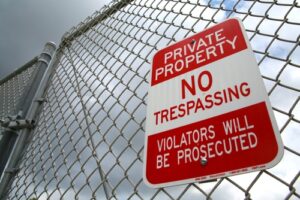 These unauthorized visitors are not owed any duty of protection from known or hidden dangers. However, landowners may not use their property to intentionally injure trespassers. If a landowner knows about frequent trespassing onto his or her property, the landowner can be liable for injuries that resulted on the property if it is found that the landowner created or maintained the dangerous condition or if they fail to notify the trespassers of the dangers on their property. In a situation like this, a trespasser would be within their rights to attain a premises liability lawyer in Beverly Hills to file a claim.
Hire a Knowledgeable Premises Liability Attorneys in Beverly Hills
Insurance companies are always determined to undermine claims by delving into victim's medical records, social media, and criminal history. They take any information available to assert that the injury is not as serious as claimed and/or that it was not caused by the defendant in question.
Gould & Jefferson of Beverly Hills can provide you with a qualified Los Angeles County premises liability lawyer who knows how to deal with insurance companies and counter their arguments and tactics. Get an experienced and knowledgeable Beverly Hills premises liability lawyer fighting by your side. Call (310) 899-9529 to speak with the best premises liability lawyers in Los Angeles County, Beverly Hills, and California.