Have you or a loved one been arrested for petty theft in Beverly Hills? Petty theft charges can be upsetting, embarrassing, and particularly terrifying when it is your first time being in trouble with the law. The attorneys at Gould & Jefferson of Beverly Hills are experienced petty theft attorneys in Los Angeles County who will fight for you and ensure the best outcome for your case.
Call (310) 899-9529 now to get on the phone with our knowledgeable petty theft attorneys in Beverly Hills. We will schedule a free one-hour consultation and discuss the legal strategies that will work best for your case. We believe that transparency and decency coupled with zealous advocacy is a must for all of our clients.
What Is Petty Theft in California?
Under California Penal Code §§484 and 488, petty theft is mainly classified as shoplifting. However, petty theft can be any kind of stealing of items or money worth $400 or less. People in Los Angeles County face petty theft charges on a daily basis, thinking it's not a big deal because no one gets hurt, not realizing that they could face fines, probation, and sometimes even jail time.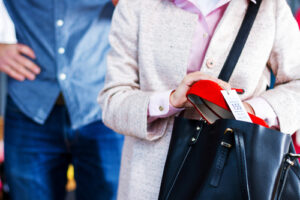 While you might feel that there's no way out of a petty theft charge, our Los Angeles County petty theft lawyers can often minimize charges by proving that you didn't mean to steal and merely got distracted, that you were falsely accused, that the item you allegedly stole is actually your property, or that you believed you were the rightful owner and took the item or money in good faith.
The Importance of Reputable Petty Theft Lawyers in Beverly Hills
Petty theft charges are typically not the most complex cases when it comes to criminal law, but this doesn't mean they do not deserve the same amount of time and dedication. The Gould & Jefferson petty theft lawyers in Beverly Hills understand that petty theft charges may be your first-ever run-in with the law, making it especially terrifying. We dedicate the time, energy, and focus required to ensure not only your liberty, but also your peace of mind.
What Is the Punishment for Petty Theft Charges in California?
If you have been charged with a violation of Penal Code Section 484a or 488 for petty theft in the state of California, it is a misdemeanor crime punishable by up to six months in county jail. You can also face up to $1000 in fines.
Do not let the above information scare you. These are the maximum punishments for petty theft charges. The reality is that a devoted team of Beverly Hills petty theft lawyers can provide the representation necessary to minimize the consequences for your petty theft charges and possibly even have the case dismissed altogether.
Hire the Best Petty Theft Lawyers in Los Angeles County
At Gould & Jefferson of Beverly Hills, we understand what it takes to provide the service you need and the results you deserve. Call us at (310) 899-9529 to schedule your absolutely free one-hour consultation today with a seasoned petty theft lawyer.