If you or a loved one has been charged with a theft crime, you need an experienced Beverly Hills theft crime lawyer to fight for you. Even if you are not innocent, you deserve to have competent and trustworthy legal representation to ensure the best outcome for your case. Gould & Jefferson of Beverly Hills is ready to get to work on your case. Call (310) 899-9529 for a free case consultation.
What Are Theft Crimes in California?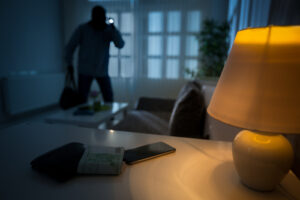 Theft crimes in Los Angeles County consist of taking or receiving another's money or property without their permission. In Southern California, theft crimes are considered "wobblers," which means they can either be charged as felonies or misdemeanors, depending on the circumstances. The severity of punishment will depend on the value of the item stolen. For example, stealing a car will carry much heavier penalties than stealing from a grocery store.
Examples of theft crimes include:
Petty theft (taking money or property worth $400 or less)
Embezzlement (employee theft crimes)
Grand theft (taking money or property worth $400 or more)
Burglary (breaking into a private residence to commit theft)
Robbery (using violence to commit a theft crime)
Carjacking and grand theft auto
Receiving stolen property
Any time a wobbler offense is involved, it is best to immediately hire a Los Angeles County theft crime lawyer to prevent a misdemeanor charge from being increased to a felony, making your life more difficult. Your attorney will either complete a dismissal prior to filing or prevent a felony filing of your charges by convincing the detective or the prosecutor to file the case as a misdemeanor. In Southern California, misdemeanor crimes like petty theft carry sentences of up to six months in jail, fines, restitution, counseling, community service, and/or probation.
Can Sentences for Theft Crime Be Increased/Decreased in California?
Certain factors of your case will determine whether your sentence could be increased or decreased. The following will be considered in sentencing someone for theft crimes:
Whether a deadly weapon was used while committing theft
Whether threats or intimidation were used in committing the crime
Whether police or government property was stolen
Whether items obtained were of high value or not
Whether the theft can be connected to a gang or organized crime
So, for example, if you used a weapon to intimidate a property owner and inflict injuries in order to carry out the theft, you would likely incur larger fines and additional time in prison. This upgraded charge could also mean having to forgo certain legal rights, such as serving on a jury and voting. Our theft crime lawyers in Beverly Hills will do everything in our power to keep your sentence to a minimum.
Hire Experienced Theft Crime Attorneys in Beverly Hills
The criminal justice system is far too complex and intimidating to deal with on your own and without the expertise of a legal expert. You are entitled to a lawyer to protect you against California's claims of theft crimes.
Call Gould & Jefferson of Beverly Hills today to set up a free one-hour consultation at (310) 899-9529. Our Beverly Hills theft crime attorneys have years of experience developing theft defense strategies for people like you, and we want to achieve the brightest outcome for your case — and for your future.